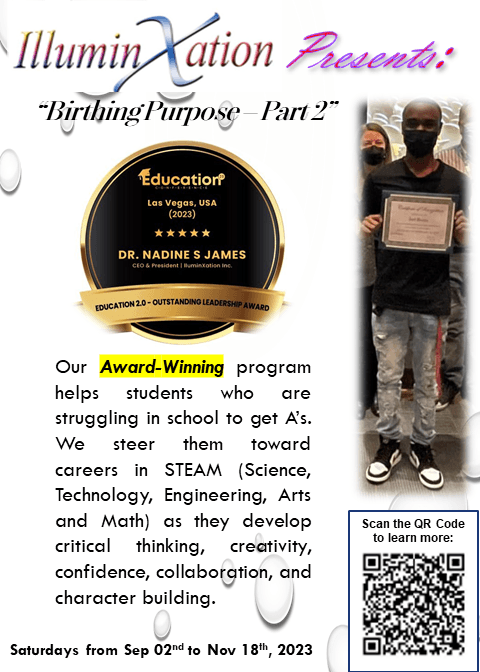 Our Cancer Smancer Reimagined - Living Your Best Sustainable Life is a year long program offered in cohorts of 12 weeks for 2.5 hours per week. Should you have questions about making your payment please contact us directly at info@illuminxation.org. Registration is required for each student between the ages of 5 to 18 years old in grades Kindergarten through 12 (K - 12). Note a non-refundable registration fee of $33 is required for your participation.
REGISTER NOW FOR ALL 12 SESSIONS OF BIRTHING PURPOSE - PART 2
Our goal is to create transcendent life long-learners, who are passionate about pursuing careers in healthcare. We enable students to recognize their true potential and take ownership of their learning, through innovative methods. This fall we are continuing to expand our new curriculum called "Cancer Smancer Reimagined - Living Our Best Sustainable Life". The theme is "Birthing Purpose - part 2" and it will be taught for approximately 2.5 hours on Saturdays for 12 weeks, beginning on September 2nd, 2023 to November 18th, 2023 from 9 AM to 11:30 AM EST.
Students in grades K - 12 grade learn:
Cancer is a group of diseases
Characteristics of cancer
Risk factors
Prevalence
Diagnosis
Treatment
Prevention
Proper Nutrition
Food Security & Sustainability
Students will work through activities in teams to demonstrate their in-depth understanding of what they were taught in this program by completing final projects. Their final projects will be an expression in visual or performing arts at an event where they will have the opportunity to showcase their work. Register to join us!
Space is limited!!!
Remember as you are applying for IlluminXation Inc programs to complete and upload the media release, liability release, student health information / emergency contact, and financial aid forms in the sidebar!
Thank you for choosing IlluminXation Inc. We are excited you did! We'll get back to you as soon as we can.